Opening a small café is a great way to earn money and also have a flexible schedule. At first, you may need to put a lot of work into your new business, but after a while you will be able to hire a couple of employees who will be able to take over the business and do everything for you. This will allow you to open other small cafés or even not do much work at all. Basically, you will have a lot of flexibility.
Many small cafés only serve a couple of different types of beverage and food items. This makes it extremely easy for the business owner to buy equipment and stock the café with the things that are needed. Cafés are usually going to have coffee, tea, and cold drink options. This means that you will need to invest in some good coffeemakers, which have the option of giving you hot water for tea. Then when it comes to cold drinks, you will need a refrigerator to keep the bottled drinks in, and then you will need some type of blending machine in order to make ice coffees, smoothies, and other blended beverages.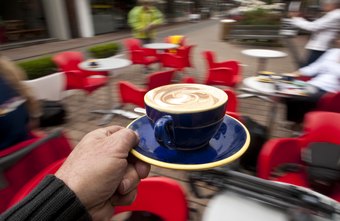 When it comes to the food that you will serve, it is likely that you will stick with a simple menu. Perhaps you will just have a couple of different pastry options. Or you may decide to do soup and sandwiches that will be served during lunch. No matter what, the idea is to keep things simple and to give your customers a couple of different options to choose from. If you are just serving pastries, you need a display case. If you are going to serve sandwiches and soup, you will only need a couple of pieces of equipment in order to make and keep the soup hot and then to grill sandwiches.
Having a successful café is all about location. You want the business to be located in an area where people like to spend time or that is convenient. This means that it might be placed near a park where people are relaxing. Or it may be placed near a business district where individuals can go for their morning coffee or have a small sandwich and cold drink for lunch.
Cafés are a great way for you to earn money, have a flexible schedule, and get to know other people.