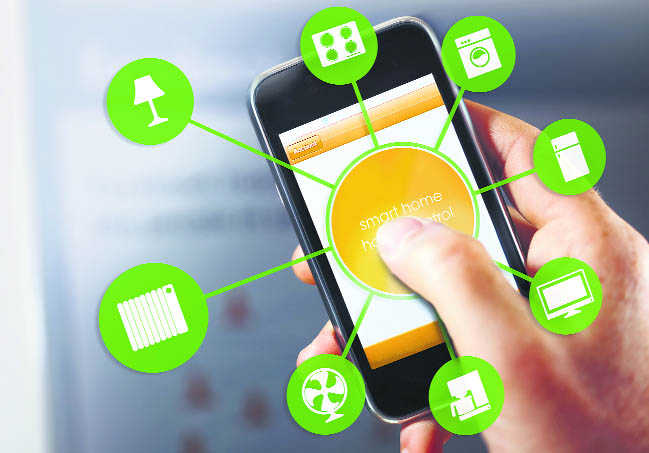 BLURB: Wireless touch-screen devices and digital appliances have given a makeover to the traditional Indian kitchen. For different purposes, there are gadgets that make cooking a fun experienceImagine asking your coffee maker to keep a steaming cup ready for you when you reach home from office. Or coming home to a cocktail already prepared by your automated bartender. Or asking your oven for dinner suggestions based on the ingredients you have.It sounds like stuff of a science fiction movie. Fortunately, the reality is as pleasing. The days of manual labour are soon becoming a thing of the past, as kitchens get a technological makeover. Kitchen appliances market boasts of gadgets like wireless touch-screen computers displaying thousands of recipes, online ovens that let you bake meat and vegetables even when you are kilometers away, sensors in a fridge that will track what's inside and automatically send an SMS to a pre-designated store when it runs out of milk, meat or eggs and vegetables.
Race to automate
In many high-tech homes, the days of metallic cooking pans, stainless-steel stirrers and spatulas, knives and cooking stovetops seem to be numbered. Electronics are bringing in change and you no longer have to sully your hands when marinating meat or vegetables as an electric tenderiser does this job for you efficiently. If you get bored while cooking, you can just switch on the TV attached to the door of your refrigerator. Leading manufacturers are pushing the boundaries of appliances and ushering in the networked kitchen.Also, designers and engineers are coming out with kitchen implements that are connected to your smartphones, iPads and laptops, which can be operated from anywhere.
Multi-tasking devices
The devices meant for the kitchen perform more than one chore at a time. For example, a multi-function breakfast station can cook eggs, toast a slice of bread and make coffee simultaneously; a digital pad determines the nutritional content of your meal and suggests healthy replacements and a cooking range with a built in refrigerator. All you need to do is keep the food in the cold chamber when going to office in the morning, an hour before you return the refrigerator turns into an oven and cooks the food.Compact gizmos are being invented to make life easier. Cutting and peeling veggies have become much easier with automated crushers, shakers, choppers, peelers, scrapers, slicers and strainers. There are blast-chillers that cool piping-hot food in seconds, hand-held food smokers, igrill wireless meat cookers, which download cooking instructions from the Internet and relay these to the grill and microwaves that scan directions on a food box and then cook the contents.Though many of these futuristic gadgets are reasonably priced, but some of the top upgrades have the potential of burning a hole in the pocket. The LG refrigerator with a television attachment, for example, will set you back by a whopping Rs 2.2 lakh and the oven-cum-refrigerator comes with a price tag of around Rs 4.5 lakh!
A digital overhaul
The era of automated kitchens has arrived. Companies like Samsung, LG, Whirlpool, Belkin, Cuisinart and others are developing high-tech kitchen devices with the aim to replace stodgy-old appliances. Refrigerators, ovens, microwaves, blenders and cooktops have set in a complete digital overhaul.Leading cookware makers are encouraging designers to come up with innovative concepts. Several companies like Electrolux and Whirlpool have design labs where competitions are held each year for innovative kitchen gizmos. Chances are that many of these which are yet in the conceptual stage could soon become realities.That, in a way, explains why designers and researchers are a giving free rein to their imagination to create technological marvels for the kitchen. They want to ensure that these work with computer precision and make cooking a stress-free experience.