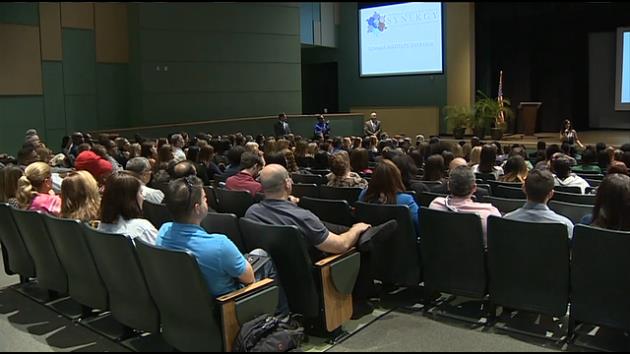 MIAMI (WSVN) — As Miami-Dade students enjoy their summer vacation away from the books, their teachers and school administrators are putting in the work as they learn the upside of modern-day technology and how to incorporate it in the classroom.
"You know, kinda polish up on the things that we're doing and find [and] share best practices and get a start for next year," said North Miami Beach Senior High School Principal Randy Millikin.
Millikin is just one of over 700 educators who attended the Synergy Summer Institute at Miami Jackson Senior High School, Wednesday. Digital learning and professional development was the focus during the three-day program. Miami-Dade County Public Schools Instructional Supervisor Sarah Chatel said, "We're having teachers learn how to use that technology in a way that they can expand into a global society."
Miami-Dade Public Schools Superintendent Alberto Carvalho agreed and said society is in the middle of a mass digital convergence, and students must now be allowed to use the technology around them. "It's a way of bringing professionals together and improve their skill set in terms of standards-based education, the implementation of new technology in the classroom," he said, "making learning fun and exciting for the students."
Students in Miami-Dade County already use laptops and computers with access to electronic books. The program will now allow teachers to be brought up to speed, along with learning new tools to better educate their students. "We're really excited about moving along and taking people and pushing their envelope," said Millikin.
The program will end at the end of the week, but similar sessions will be taking place throughout the next two weeks.