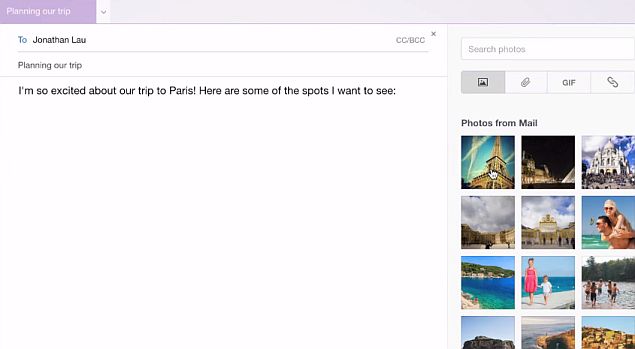 Yahoo Mail has announced an addition of some new shortcuts to add photos, files, gif images, and Web links while composing an email. The company will be rolling out the new compose features to Yahoo Mail users in the US over the next few days. Unfortunately, Yahoo has not revealed when the features will be rolling out to users outside the US.With the rollout of these features, users on Yahoo Mail will notice a plus sign icon on the bottom right corner of the compose email window. On clicking the button, a panel will appear on the right side with four different selections: photos, files, gif images, and Web links.
For adding photos to the email, users will notice that photos sent or received in the inbox of the Yahoo Mail can be viewed on the same page, with the most recent photos on top. Users can also add images from other sites as well as Flickr using the search box.
Users can search and add files via the file selection option on the right side, which shows recently sent or received documents, presentations, and PDFs among other files. A specific file or document can be searched by person or keyword via the search box. Now gif images can also be added to emails in just once click with the included gif image search suggestion fear. Users can also search for gif images from Web and Tumblr.
Yahoo Mail now includes a preview for photos and gif images when added to the mail.
Lastly, Web links can be added to the mail via the tool that allows searching for a website without having to leave compose window. Notably, the link will appear in the compose window with a link preview.
Apart from the new compose features, Yahoo has also made improvements to the overall compose experience and claims it makes Yahoo Mail, "faster and smoother".
Announcing the new features, Yahoo's Devin Abbott, Associate Product Manager said, "At Yahoo, we believe that email is personal and the messages you create should be compelling, creative and beautiful, and of course, easy to compose. In the past, it's been hard to find and add photos, files or other content when sending emails, but today that's about to change. We're excited to share a new feature when you're composing a message that's quick and fun to use."