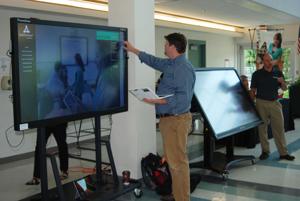 The Franklin County Public Schools Technology Services Department hosted its annual Regional Professional Development Institute for Technology (RPDIT) last week, with various technology sessions for Franklin County educators.
The training on how to provide students with a 21st century education consisted of numerous sessions on topics ranging from iPads for teaching and learning to digital storytelling and social media in the classroom.
"Several of our sessions also related to the use of mobile devices in the classroom," said George Washington, director of technology for Franklin County schools. "As our society continues to grow from desktop computers to laptop computers to hand-held mobile devices, our teachers have to continue to stay on the cutting edge of incorporating the usage of these devices in their classroom instruction."
The annual RPDIT also partnered with the Virginia Society for Technology in Education (VSTE) to offer a full day of professional development.
Representatives from VSTE were on hand to provide educational workshops for teachers. Twenty tables were set up in the Gereau Center cafeteria, showcasing a combination of hardware and software vendors, projects from Franklin County schools, technical services and more.
Franklin County's technology department displayed its technology museum, showcasing how technology has changed over the last 30 years.
Attendees were allowed to view the showcases while learning ways to bring new technology, websites, programs and free services into their classrooms.
The event was attended by teachers, administrators, teacher assistants, students and educators from across the Roanoke Valley. Featured teachers at this year's RPDIT included Bridgitte Goins of Prince William County (and formerly of Franklin County); Julie Mersiowsky, Director of the Elementary Education of the Longwood University site in Emporia; Dr. Karen Work Richardson, Executive Director of VSTE; and Meg Swecker, Coordinator of Technology Integration of Roanoke County public schools.
"The event featured a week of exciting, professional development for teachers," Washington said.
Participants will receive a certificate for recertification points for class attendance.
To learn more about the VSTE, visit www.vste.org.