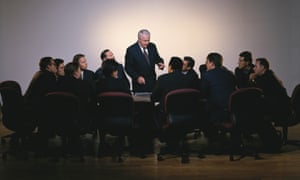 when I left school at 16, in March 1979, my first job interview was for an admin position at a garage in Chelmsford. I was extremely nervous as I walked into a yard of men in greasy overalls, and as I was being interviewed I blushed as my eyes skipped around the office to the calendars of topless women on the walls.
I loved Top of the Pops on a Thursday evening all those years ago, but wondered why there were so few women singing or presenting. "Women are no good at singing – if they were any good they would be on there," said one. "Women don't like singing in public or on TV because it's not natural or feminine," said another. I thought at the time those opinions were wrong, but kept my opinions to myself unless I was talking to one of those rare people who seemed to feel the way I did.
Fast forward to 1998. I'm a single parent with three kids. I've just finished a degree in computing and am doing a PhD in software engineering. When I started my PhD there were about 15-20% women in tech; now, 22 years later, there are still about 15-20% women in tech. Statistically nothing has changed, yet change is in the air. Over the years, when I've talked to people about the lack of women in the technology industry, they've said things like: "Women are no good at tech, and if they were any good they would work in tech"; "Women don't like tech – they are better at xyz". Sound familiar?
I've been complaining about all-male panels at conferences since I set up BCSWomen with the British Computer Society back in 2001. Recently I tweetedComputing News about one of their conferences: